There's always something fun happening at Sweetwater. Whether you're looking to rock the open mic, participate in a group jam, catch a concert, jump into a workshop, or spend the summer in one of our amazing camps, we've got something to pique your interest. New events are posted regularly, so check back often.
May 14 & 28 at 5PM
Open Acoustic Jam
At Sweetwater
Open to players of all skill levels, just grab your guitar and join us for a great time. Play, hang out, exchange ideas, share songs, and have fun!
May 30 at 7PM
Jazz Jam
At Sweetwater
Get together for an evening of musical exploration in a relaxed, laid-back environment. A piano, drum kit, amps, and mics will be provided. Just bring your instrument and your passion for jazz!
JUNE 5, 6 & 7
Drum Camp
At Sweetwater
Drum Camp is a 3-day workshop for beginner and intermediate drummers who want to sharpen their percussion skills while having a great time. Under the guidance of professional drummer Larry Ford, you will apply exciting techniques and playing styles to some well-known songs in a wide variety of genres.
Learn more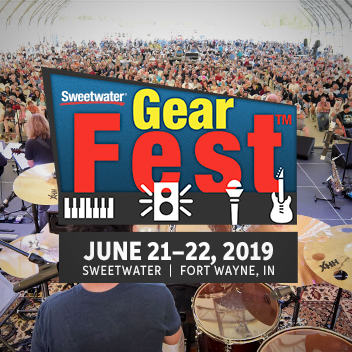 JUNE 21-22, 2019
GearFest 2019
At Sweetwater
With two days of the hottest new gear, mind-blowing workshops, and performances by some of the best in the business, Sweetwater's GearFest is a music-maker's paradise. Oh, and did we mention thousands of dollars of gear giveaways, camping, and GearFest-exclusive gear deals? And it's all absolutely FREE! So spend the weekend with 15,000 fellow musicians, and register for this year's GearFest, today.
Learn more
Summer 2019
Rock Camp '19
At Sweetwater
Rock Camp is a thrilling, five-day crash course in rock 'n' roll for aspiring musicians ages 12-18. You'll form a band, write your own song together, and record it in Sweetwater's world-class recording studios. Best of all, your band will end the week performing on stage in Sweetwater's state-of-the-art Performance Theatre.
Learn more